Focus POS California offers the highest quality restaurant POS hardware with the best value to accompany your point of sale software.
Terminals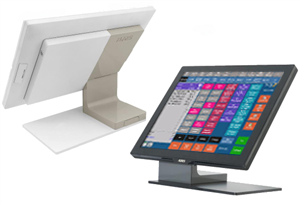 With terminals ranging from 10 to 19 inches and everything in between, we can guarantee that the hardware we install will meet your unique needs. Focus POS California also offers custom mounting to keep your terminals secure and keep your counter free of clutter. Our terminals are built to last, featuring projective capacitive touch screens that maintain their quality through constant use.
Tablets
Line busting, pay at the table and mobile ordering give your staff all the advantages of using tablets to increase efficiency in your restaurant or bar without having to learn a separate system. Table service restaurants benefit greatly from servers carrying a slim iPad mini or Windows tablet device while quick service operations may prefer a tablet that is more ruggedized and can be used both as a regular and mobile station. A variety of devices allow you to deploy the best solution for your environment.
Printers
Focus POS California proudly uses Epson printers in all sites. Epson produces the most durable, long-lasting and reliable POS printers on the market. With a long list of products, Epson fits into each individual restaurants needs. Epson printers are quick and reliable in any situation. With great warranties and speedy repair services, these printers add value and efficiency to your system.
Kitchen Video
Connected video screens using either direct touch or bump bars allows kitchens to run at optimal efficiency. Orders can automatically be timed or coursed and advanced routing options such as load balancing bring order to even the largest kitchens. Our scalable kitchen video options can be integrated into any concept of any size.