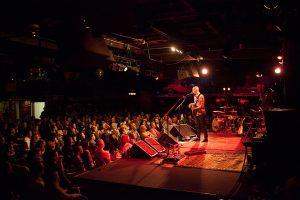 Around since the 80's, Coach House has been able to see multiple generations of acts come through Southern Orange County. Ask any visitor and they will tell you there isn't a bad seat in the house. Its small size offers an intimacy that is not available in most other venues.
Event venues require systems in place for super high volume since business comes all at once in short waves. FOCUS easily handles this by building out navigation and menus in a simple streamlined fashion. The goal is to be able to make every bartender and server as efficient as possible. Tab lists allow for quick access to open transactions that can be filtered by tab name or bartender for easy retrieval.
When the owners of Coach House approached us to build a solution, their biggest concern was credit card security. Each POS station is equipped with an EMV reader to utilize chip card technology. This ensures each transaction is unique and secure to protect their guest's cardholder data.
Don't miss your chance to catch some great musicians this summer at Coach House! Their event schedule can be found on their website at https://thecoachhouse.com/.
Photo by Nicole Priest Photography.