In a world of high tech everything, there is still a constant struggle between maintaining current habits and adapting to the new technology trends. Restaurants and bars are no exception to this ongoing dilemma. We hear from many of our clients who still continue to debate on whether it makes sense to go paperless or stick with printing guest receipts and orders. No matter the size of your operation, there are options that can help you either reduce printing on paper or eliminate it all together.
Let's start off with taking a look at the kitchen, bar or other prep areas. Kitchen video has long been a staple for any high volume fast paced environment. Orders pop onto a screen that can show either full order details or simple item views depending on the needs of the person reviewing that order. Routing to each station is just as simple as it is in FOCUS, however, you also have more complicated workflow options based on modifiers or load balancing options. Besides not having paper copies of orders that can be lost, since the order data is being tracked at each step of the way you are able to see additional analytical data such as average ticket time and details of the cook times on each item.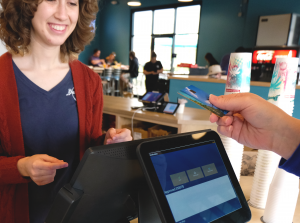 For a Quick Service operation, printing at the POS station can be eliminated by utilizing FOCUS' Signature Capture option. When processing a credit card transaction, the guest can input a digital signature on the point of sale touch screen. This can be achieved with either a station on a swivel base that can be turned and presented to the guest or our favorite option is a rear touch LCD display. The rear display can also be used for up-selling and order confirmation during the ordering process.
In a Table Service or Bar environment, getting a guest to a POS station is not really feasible. However other options such as using pay at the table devices, tablets or accepting payments through third-party applications can allow the payment to be processed with the guest so the signature can either be captured a the time of payment or possibly not even required.
New changes instituted by the credit card brands will also make signature obsolete for anyone processing with EMV. A recent article on Creditcards.com (https://www.creditcards.com/credit-card-news/signatures-soon-may-not-be-required.php) explains that Visa, Mastercard, Discover and American Express all dropped the signature requirements.
But what does that mean for tips? The consensus so far has been even with getting rid of signatures most restaurants and bars will still present a check in some form to be able to collect a tip from the guest.
In the end, there are multiple options that each operation will need to evaluate to see what makes the most sense for each business. Our team is always here to review those options with you. Click here to schedule time with a Solution Engineer.