If you are using FOCUS you are probably already familiar with Report Groups. Each menu item in FOCUS is attached to a Report Group. This classification allows you to group like items for sales reporting purposes.
Report Groups could be broad names such as Food or Spirits. Alternatively, you can set Report Groups to more defined categories such as Apps, Salads, Entrees or Wine and Beer. This is super beneficial for getting detailed and segmented reporting based on your menu sections or other categorizations.
The challenge is when using very specific names for your Report Group categories which your management team will love, your accounting team will not be able to quickly see the broad categories they need for revenue recognition.
This is where Super Groups can help define an additional layer of data grouping.
Super Groups consolidate Report Groups into larger categories. This allows you to see both your more defined categorizations with Report Groups and the totals of the selected combined Report Groups together.
For instance, at the Focus Cafe, we have the following Report Groups: Salads, Sandwiches, Wraps, Plates, Desserts, Kids, Drinks, Bottle Bev, Spirits, Cocktails, Glass Wine, Bottle Wine, Bottle Beer, and Draft Beer.
These Report Groups give us the detailed breakdown we want to understand where the majority of our sales come from. However, we still want to see the total overall sales for Food, NA Bev, Spirits, Beer and Wine.
Under the Report Group settings, we can set which Super Group it is defined to report with. In the example below, we can see how the Report Groups and Super Groups are configured for a location with extremely detailed reporting.
Super Groups are configured in Miscellaneous > nFocus/Online Ordering/Tabbedout. These are defined in our example below as broader categories. These groups can be renamed at any point and added or changed to a Report Group to reorganize data.
Report Groups are configured in Reports > Report Groups. Existing Report Groups should not be renamed as it will affect historical reporting.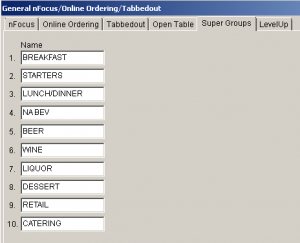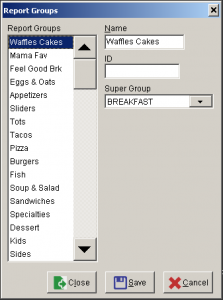 Using the configuration above allows us to get a Sales Detail report which will group sales by Super Group and then Report Group. The report below is an example of how the Sales Detail report would look if ran from FOCUS.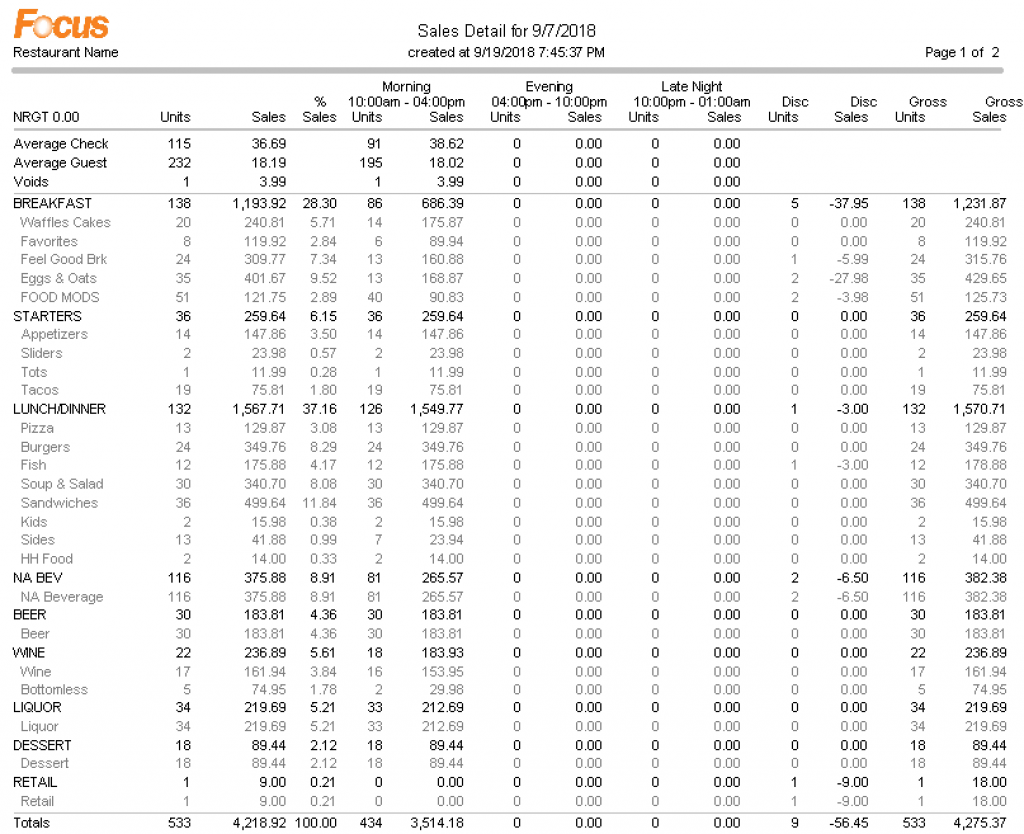 Super Groups can be added even if you have been using the system for years without them.
Need assistance setting this up? Our Awesome Helpdesk Team would be happy to help! Submit a ticket below and we will reach out to help you set this up.