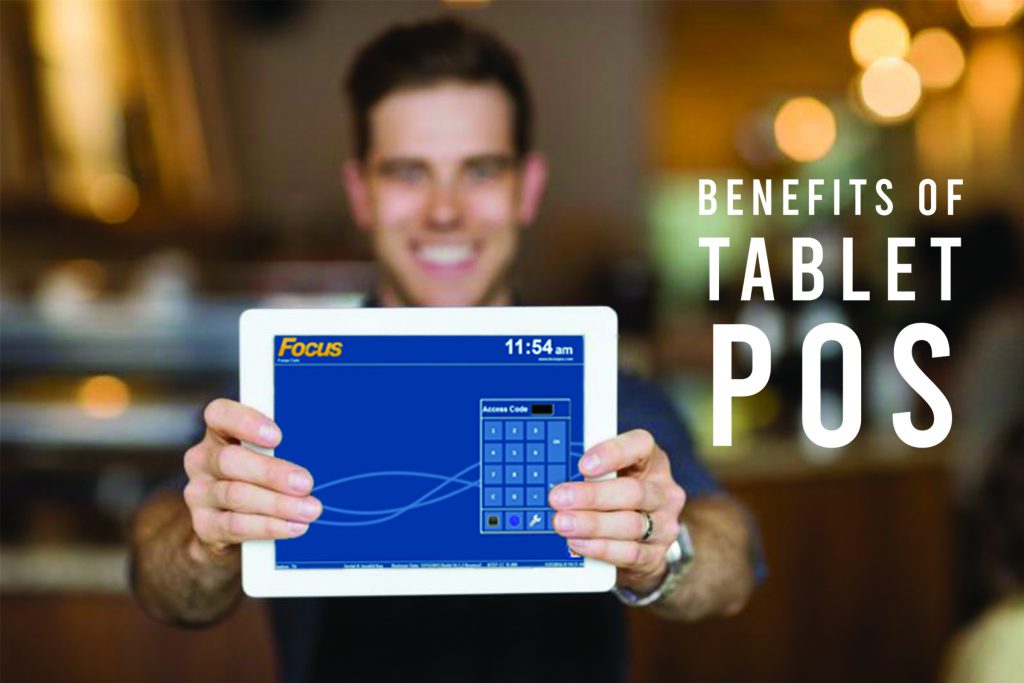 Tablet point of sale software takes traditional point of sale to the next level, giving you the capabilities to enhance the customer experience and streamline your operations. Your staff can take orders and process payments from anywhere in the restaurant, thereby improving sales and customer satisfaction. 
Overall Benefits of Tablet POS Technology
Tablet POS software provide great advantages for restaurants and foodservice establishments:
Versatility
Tablets offer greater flexibility of use than regular POS terminals. They can be mounted on a stationary unit that is either monitored by a cashier or used as a self-service kiosk, or used by staff to take orders and process payments on-the-go. They can also be placed on tables for self-ordering and serve as advertising space to promote menu items and specials.
Increased Efficiency, Accuracy, and Sales
Orders placed on tablets are transmitted directly to the kitchen, resulting in faster prep times and reduced service errors. Fewer errors will eliminate the costs of food and time wasted on wrong orders, while providing a more comfortable dining experience for your customers. Sales can increase through consistent up-selling prompts, and customers are more likely to dine again with efficient service.
Line Busting
Tablet POS reduces long wait times by allowing your staff to move through the lines taking orders and increasing customer through-put. A self-service tablet kiosk will have the same effect.
Ergonomic Advantage
Traditional POS terminals can be large and clunky, taking up more counter space than you may be able to spare — especially in a smaller restaurant. Tablets are smaller and lighter, providing a better option for tight spaces.
How Mobile POS is Changing the Restaurant Industry
Server Benefits
Less running: When servers don't have to run orders back to the kitchen, or run credit cards back and forth to a central terminal for processing, they save a lot of steps and time that can be better spent interacting with customers
More table turns: Faster ordering and payment processes lead to more table turns per shift and tip opportunities. Table-side technology can increase turnover time by 7 to 10 minutes
Customer Benefits
Fewer service errors: Especially with self-ordering, customers can be sure they'll get exactly what they ordered, prepared to their specifications
Greater data security: When customers can pay at the table, their credit or debit cards stay under their control, eliminating the risk of card skimming or identity theft
Shorter wait times: Faster table turnovers lead to shorter wait times for incoming customers. The sooner a hungry diner can be seated and start ordering, the happier they'll be with the experience
House Benefits
Higher profits: Larger ticket sizes, more customers served, more satisfied customers retained, less paper and food waste, and more efficient labor use all add up to greater profits
Fast ROI: Tablets and table-side devices often have a lower initial investment cost than traditional POS. Coupled with the revenue generation and cost savings that will follow, return on that investment won't take long.
Restaurants need every technology advantage to stay ahead in a highly competitive environment and provide customers with the efficiency and convenience they expect.
If you're ready to add tablet point of sale software to your arsenal, contact one of our Solutions Consultants to get started today.